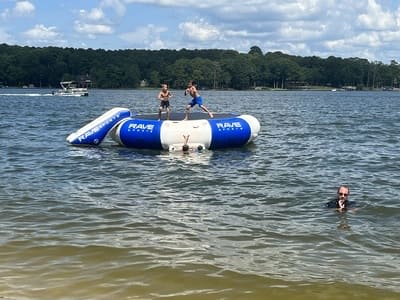 Your Guide to the Best Types of Water Sports for Lakeside Fun
This is your guide to the best types of water sports for lakeside fun at Lake Oconee. Spending two hours a week outdoors improves mental health, ups your happiness, and helps reduce stress? One of the best ways to spend time in nature is on the lake! There are many ways you can enjoy the sun and fresh air when you have water activities at your fingertips.
There are many types of water sports to take advantage of. Whether you prefer relaxing and reading or you want a rush of adrenaline, there is something for everyone. The lake is a peaceful place to spend an afternoon or an entire weekend.
Our guide outlines six of the top ways to enjoy the lake from boating to swimming and everything in between. Grab your swimsuit (or trunks!) and keep reading to find out the best ways to spend your time on the lake!
Types of Water Sports
There are two types of water sports – relaxing and adventurous! Our guide breaks down both types of water activities. If you didn't grow up around the lake, you may not be as comfortable doing more daring experiences. However, that doesn't mean you can't enjoy your time on the water.
For those who crave an adrenaline rush, there is no shortage of fast-paced water sports to scratch your itch.
Spending time on a beautiful lake is one of life's most simple pleasures. It can be enjoyed by the whole family, individually, or as a couple. Many of these activities welcome your furry friend, too!
1. Jet Ski Rentals
Rev your engines! A jet ski rental is a fast and fun way to explore a lake. Lake Oconee covers almost 20,000 square feet and about 350 miles of shoreline. This expansive lake is located in central Georgia near Greensboro.
Renting a jet ski can take you across miles of scenic views. You can enjoy the sights and sounds of the surrounding areas with ease. Take a pit stop and enjoy a lunch along the shore or settle down for an afternoon nap.
With the speed of a jet, you'll waste no time exploring to your heart's content without fear of time constraints.
2. Rent a Kayak
If you prefer something a little more low-key, we suggest a kayak rental. Renting a kayak (or canoe) is one of our favorite ways to enjoy a lazy day on the lake. Pack lunch, drinks, and someone you love. That's really all you need because nature does the rest.
You're provided a gorgeous backdrop and can amble through the water at your own pace, stopping along the way to appreciate the beauty.
Kayaks come in one or two-seater options. A canoe can fit one, two, or possibly more depending on size. Ask your rental company about requirements, especially if you have children. Pups love a kayak adventure to help you steer the way and maybe even encourage you to take a midday dip with them!
3. Pontoon Boat Fun
It's fun for the whole family with a pontoon boat rental. Pontoons can generally hold 12 to 16 people depending on the model of the boat. Whether you have a small group or a large one, pontoons are always a hit.
A pontoon provides plenty of room for food, drinks, water toys, and more. It's the most popular choice for families with small children.
Pontoons make a great space for an impromptu party on the water as well! Invite several friends and enjoy your day (and night!) sailing along the lake.
Because of a pontoon's wide deck space, it makes the ideal transportation choice for those wanting to enjoy a day of fishing. Post up early in the day and enjoy the fruit of your labors in the evening.
4. Rent a Wake Boat
If you're really in the market for some optimal lake fun, rent a wake boat! Grab your wake surfboard and get ready to have the time of your life.
Wake surfing lets you have control over your board and gives you a sense of freedom on the waves. When you're on the lake there's no such thing as time so don't be surprised if hours go by during your day out.
If surfing isn't your thing, wakeboarding is another water sport that is full of fun! Similar to snowboarding, wakeboarding can be tricky to get the hang of, but you'll have plenty of opportunities to master this incredibly fun water sport!
5. Enjoy Swimming
Where are our sunbathers and swimmers at? This one is for you. Grab your favorite float and hop into the pristine lake waters for a sunny swim. There is no feeling quite like cold water slicing over your body as you take a few laps around the lake.
If you're like us, you may find yourself chilling on your float in the water while enjoying a cold beverage in the sun. No judgment here! There is no wrong way to enjoy the lake.
One of the best things about lake adventures is there are so many options to choose from! You can swim, surf, or sit. The possibilities are endless and can fit the likes of anyone who joins you.
6. Sailing
Sailing, take me away! This activity combines a little of both types of water sports – it's relaxing, but can also provide a surge of adrenaline!
If you're an experienced nautical enthusiast, you'll be good to go! Otherwise, you may want a guide. Or, skip the work altogether and hire a professional to guide your sails. There's no wrong way to enjoy a day of sailing on the water!
Lake Life for Life
We hope this guide opened your eyes to some new types of water sports you may not have thought of! The most important thing to remember is to have fun and enjoy your time!
There are so many beautiful places around the Greensboro, Eatonton, and Madison, Georgia areas. You can enjoy all that Lake Oconee has to offer from world-class resorts, golf clubs, and a vibrant downtown area.
Perhaps you want to live the lake life for life. If so, reach out and contact us about properties for sale in the area and make the lake your next home.