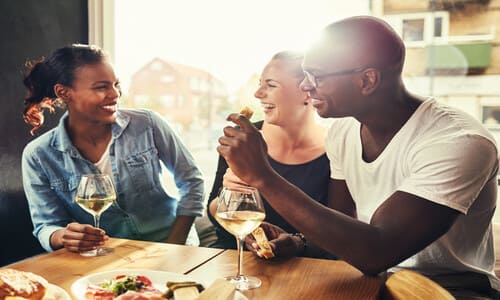 Lake Oconee restaurants
Summer or winter, it's nearly always warm on the shores of Lake Oconee. With
pleasant temperatures
all year round, it's always a good time to spend time by this sprawling lake.
If you're looking for a bite to eat in the area, you're in luck. There are so many amazing Lake Oconee restaurants for you to enjoy. Whatever your taste, there's bound to be something that appeals to you.
Want to find out where to eat in Lake Oconee? Check out this article and find out where
locals and tourists
alike love to eat. Bon appetit!
Gaby's by the Lake
If you're looking for high-class dining by the water, Gaby's by the Lake could be for you. Located on the premises of the Ritz-Carlton, it's known for its high-class service, sumptuous menu, and great views.
Despite the classy surroundings and superior service, Gaby's is fairly casual for the average diner and you'll find the menu features plenty of accessible options. Some favorites include lobster grilled cheese and fish tacos.
Gaby's is open every day from 11:30 am until 9 pm. You can stop by for brunch and enjoy those lake views or drop by for drinks and starters in the evening and watch the moon shining on the water.
The Silver Moon
The Silver Moon is one of the most popular places to eat in Lake Oconee. You can enjoy reasonable prices, a wide-ranging menu, and a friendly atmosphere.
This pub-style eatery offers all kinds of down-home favorites, from prime rib to gumbo. Seafood is popular too. Fried shrimp and tuna steak are both specialties.
If you enjoy a drink every now and then, you can wash it down with a choice of beers or wines from the pub menu.
Located on the west side of the lake on Lake Oconee Parkway, The Silver Moon is easily accessible with plenty of parking. You can choose to have your food to go if you're in a hurry.
Richland Pointe Restaurant
The restaurant has wonderful views out over the water. It's located on a small peninsula jutting out on the lake. The restaurant is open to Platinum members and their guests only at 4 pm, so try to stop by in daylight hours and you can enjoy the views.
Menu options range from the standard, like beef burgers, to more creative options like the Drunken Goat sandwich and Indian butter chicken. There is also a dedicated vegetarian menu, featuring treats including linguine, veggie burgers, and stir fry.
To drink, why not treat yourself to something from the extensive wine menu? Chardonnay, merlot, sparkling, or anything else you love, you're sure to find it here.
You'll find Richland Pointe Restaurant on East Village Walk in Reynolds Lake Oconee, a little way south of The National Tavern. There's plenty of parking outside, and lots of space inside. That means you're unlikely to spend too long waiting for a table.
Kathy's Café and Infinity Pool Bar
Situated on Lake Club Drive, Kathy's Cafe is one of the casual restaurants on property at Reynolds Lake Oconee. It offers beautiful surroundings and delicious light bites.
Their sandwich menu is a favorite for those looking for something fast for lunch that won't break the bank. Try their all-beef hot dog, Reuben sandwich, or tuna melt. There are plenty of salads and sides to enjoy, too!
On a warm day, you can enjoy drinks by the pools. The Café offers a wide variety of cocktails to help you cool off. You'll feel like you're on a tropical vacation when you enjoy a pina colada by the water!
Lake Oconee Bistro
This is another friendly restaurant that's popular with locals and tourists alike. You can try everything from pulled pork nachos and shrimp to alligator tail bites!
There are plenty of vegetarian and vegan options too, including the onion ring tower and jumbo pretzel. There is also a
kids' menu
.
Or how about a spot of lunch? Lake Oconee's Bistro offers a dedicated lunch menu, served between 11 am and 3 pm each weekday. Enjoy a range of salads of sandwiches with friends or family.
You'll find Lake Oconee Bistro located on Lake Oconee Parkway and very close to The Silver Moon.
Eighty8 Kitchen + Cocktails
Although situated a little way back from the lakeshore, Eighty8 Kitchen + Cocktails is still a popular option for members of Reynolds Lake Oconee and their guests heading home after a day of fun by the water.
Eighty8 offers a menu featuring delicious local seafood and meat dishes. Locals swear by the smoked bacon slab or pan-seared redfish. As the name of the establishment suggests, you can enjoy a range of cocktails to wash it down. Try an old favorite like a Margarita, or sample one of the unique house offerings if you're feeling adventurous.
You might find the wide-ranging menu here keeps you coming back week after week to try different options!
Eighty8 Kitchen + Cocktails is located on Clubhouse Lane and is open for breakfast and dinner every day. Stop by from 7 am to 10 am for pancakes or waffles and enjoy the morning light streaming in over the lake!
Set Up Home in Lake Oconee
There are so many great attractions and things to do by the lake. But if you want to enjoy the best Lake Oconee restaurants regularly, you'll need to set up shop in the area.
If you're looking for a home in Lake Oconee, we can help. As trusted local REALTORS, we can help you find the home of your dreams.
Contact us
today and find out more about the properties around Lake Oconee.