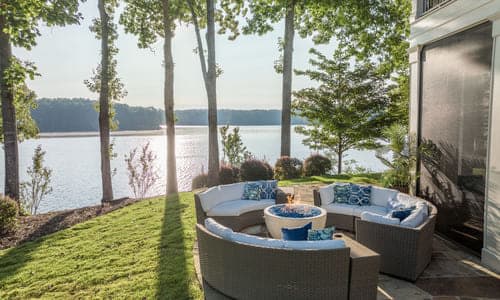 Complete guide to living at Lake Oconee and the surrounding area is found right here. Whether you're looking for a new home or a vacation home, Lake Oconee has some of the most
stunning real estate
in the country.
From lakefront homes to golf communities, Lake Oconee has everything you could ever dream of. In addition to the real estate, Lake Oconee is home to impressive restaurants, luxury spas, and world-class entertainment for the entire family.
The biggest selling point about Lake Oconee is the lifestyle that it comes with. This makes it the perfect place to relax and enjoy quality time with your loved ones.
Are you thinking about moving to Lake Oconee? Here's everything you need to know about living in Lake Oconee along with the best communities to invest in.
Lake Oconee
Located in the middle of Atlanta and Augusta, Lake Oconee is a massive 19,000-acre lake that's home to some of the state's most luxurious real estate. The lake is technically a reservoir, and developers have invested heavily in the area to create innovative, luxurious communities.
The lake comes with 374 miles of shoreline that has been maintained to elevate the look and feel of the entire area. This allows Lake Oconee to be the perfect blend of luxury and nature. While the lake is home to a Ritz-Carlton hotel, there are tons of premium vacation rentals in the area.
This makes Lake Oconee perfect for those looking to invest in real estate with the hopes of renting it out. In addition to this, Lake Oconee offers a premium, relaxing lifestyle that makes it the perfect place to raise a family. This makes investing in Lake Oconee the best of both worlds.
Lake Oconee Tourism
As mentioned above, Lake Oconee is one of the most luxurious parts of Georgia. This makes it the perfect holiday destination for the entire family. Here are a few key things you should know about visiting Lake Oconee for vacation.
WORLD-CLASS HOTELS
When it comes to luxury accommodation, Lake Oconee has tons of options. However, the Ritz-Carlton Reynolds is the best option by far. This stunning hotel is perfectly placed on the lakefront and has some of the best views throughout the year.
The world-class hotel has exclusive golf courses, three incredible pools, fine dining restaurants, and lakeside suites for the perfect romantic getaway. While the 257-room hotel is incredible, Lake Oconee is also home to tons of vacation rentals that can give you a cozier environment.
Lake Oconee is home to some of the most sought-after real estate in the state. The lakefront homes are perfect for
investment properties
, as tourists love to vacation at the lake throughout the year. While summer may be perfect for water sports on the lake, winter also attracts visitors that want to enjoy a peaceful fire overlooking the calm lake.
WATER SPORTS
As mentioned above, Lake Oconee is the perfect place for the entire family. There are tons of things to do in the area, including water sports on the lake. The most popular options are boating, kayaking, and even
renting a jet ski
for the day.
The water sports are not exclusively for adults as there are guided options for kids as well. Nature doesn't stop there as the lake is broken up by acres of beautiful, natural forests. These forests lead up to the state park but include hundreds of hiking and biking trails.
This makes visiting and traveling to Lake Oconee perfect for nature lovers. While there are tons of lakefront properties along the shoreline, there are also options for those who want something in the forest. These homes offer more privacy as they're designed to fit perfectly into nature.
LUXURY LIVING
Lake Oconee is a luxurious destination that's also home to local amenities that can elevate your entire trip. This includes
fine dining restaurants
, fitness centers, world-class golf courses, and a few of the best spas in the country. This can help you relax and unwind whether you're visiting for a weekend or moving to Lake Oconee permanently.
This is one of the main reasons why people flock to Lake Oconee. The lake offers a blend of nature, peace, and luxury that simply can't be matched anywhere in the world. The area also has good schools, brilliant restaurants, and everything else you need for the whole family.
Living In Lake Oconee
Lake Oconee is a great place to travel on holiday but is even better to move to. There are many great communities around the lake for you to choose from, each coming with luxury amenities for the entire family. If you're thinking to move to Lake Oconee, here's what you need to know about life by the lake.
SOUTHERN LIVING
Lake Oconee is not very far away from the major cities in Georgia. This makes moving to the lake perfect for those who want a break from the hustle and bustle of living in a big city. This is especially important for those wanting to retire and those wanting to raise children in a safe, peaceful environment.
It's absolutely true that life is slower in Lake Oconee. This gives you time and space to breathe and enjoy the most important aspects of life. Whether you're thinking about investing in a holiday home or moving to the lake permanently, the nature and peace make it worth every penny.
PRIME GEORGIA REAL ESTATE
Lake Oconee is technically in multiple counties depending on which side of the lake you're on. The real estate in the area is divided into
various gated communities
, each with its own unique amenities for residents and visitors. These amenities range from golf courses to restaurants, tennis courts, fitness centers, marinas, and even private airstrips.
IMPROVED SECURITY
The gated communities around the lake provide security and peace of mind to everyone that lives in the area. This allows you to provide your entire family with a greater quality of life, enjoying nature to its fullest every day.
If you're looking for a safe, peaceful place to raise a family, the communities around the lake are perfect. This is because partially because of the added security but also because of the tight-knit community aspect. Even though the private estates are luxurious, it's still very much a southern community that will make you feel at home in the blink of an eye.
REAL ESTATE FACILITIES
The communities around the lake are also home to other families in the area. With great schools nearby, your kids will be able to make new friends in no time. The communities prioritize nature but also offer tons of sporting facilities.
While the most popular sport around the lake is golf, the various gated communities have private fitness centers, tennis courts, and swimming pools. This allows your children to enjoy the facilities throughout the year without missing anything from a big city.
There are also water sports available at the lake. These sports include boating and kayaking but you can also rent a jet ski if that's more your style. The various communities in the area also have indoor and outdoor pools, allowing your family to enjoy the water comfortably all year round.
LAKE OCONEE SCHOOLS
There are a few great schools in and around Lake Oconee. Lake Oconee Academy is close to The Harbor Club while Gatewood Schools is another popular option west of the lake. Gatewood Schools is a great school that's founded on Christian principles and is dedicated to offering world-class education to young men and women.
Lake Oconee Academy is a charter school that offers some of the best extra-curricular activities for your children. This includes baseball, basketball, football, tennis, and even golf. The school also offers varsity sports, making it perfect to sharpen your child's skills if they ever want to pursue a sport professionally as a career.
GREENE COUNTY GOLF COURSES
If you love golf, you're going to love Lake Oconee. The
Landing at Reynolds Lake Oconee
is the oldest golf course in the area that dates back to 1986. While this may have been the first course, there are over a dozen courses all around the lake today.
Almost every gated community around the lake has its own golf course, with a few having more than one course to offer residents. The Reynolds gated community is home to five private golf courses, with the Landing open to the public. These private golf courses are all Par 72 courses and are exclusively for the use of residents and guests of the Ritz-Carlton.
In addition to this, there's also a golf academy for those looking to learn the game. The golf academy is not just for kids as it employs experienced trainers that can help you improve your skills at any level. Whether you're just learning to hit the ball or need to master the perfect chip shot, the academy has you covered.
Lake Oconee is also home to a driving range and putting greens for you to practice as well. As a resident in the area, you can receive massive discounts at all the golf courses nearby. This is a great way to slowly make your way around the lake, one golf course at a time.
LOCAL BUSINESSES
While it's true that many people have invested in property by the lake as a holiday home, Lake Oconee still has everything you need to call the lake your home. This includes dozens of small businesses in the area. These businesses range from bridal boutiques to electric bike shops, grocery stores, and even clothing outlets.
Lake Oconee has everything you need, making trips to the bigger cities incredibly rare. However, when it comes to the beauty and wellness department, Lake Oconee has more to offer than most metropolitan cities. From hair studios to IV hydration therapy and laser medical spas, everything you need is scattered around the lake.
There's also a wellness spa, dental care center, physical therapy studio, and a botox clinic in the area. This makes it perfect for those who still want to maintain themselves while still enjoying the peace and quiet of country life.
LAKE OCONEE RESTAURANTS
There are quite a number of different restaurant options available around Lake Oconee. These restaurants range from fine dining restaurants to cafes, bistros, and even a local brewery. The Oconee Brewing Company was established in 2017 and offers some of the best local brews.
There are a few options around town for breakfast and brunch, but you have to visit Chef Deborah Johnson before you leave. The best thing on the menu is by far the food board as they can easily serve between
four to eight hungry adults
. These boards are made to order and are perfect if you're hosting an event at home.
If you have a bit of a sweet tooth but still want something healthy, Two Rivers Nutrition is the perfect option for you. This impressive shake shop offers a wide range of immune-boosting, nutritious, delicious shakes and teas that you have to try for yourself.
FAMILY-FRIENDLY ENTERTAINMENT
There are tons of activities to keep you and the family entertained during your time by the lake. As mentioned above, there are dozens of golf clubs, tennis courts, hiking trails, and water sports for you to master and enjoy as a family.
In addition to the sporting activities around the lake, there are also cultural activities for the whole family to enjoy. This includes visiting The Plaza Arts Center, Madison-Morgan Cultural Center, and Festival Hall. The history museums have a lot to offer while all three cultural centers also play host to musical events from time to time.
LOCAL LAKE OCONEE EVENTS
Lake Oconee may be peaceful and quiet, but it's by no means boring. There are tons of things to do in the area throughout the year, with almost every community hosting events for the entire family. These events range from easter egg hunts for the kids to barbeques and cook-offs.
The local businesses and restaurants have also teamed up to host events and specials throughout the year. The most popular is the
deal card
that you can use at a few restaurants around the lake. This card works in the same way as a loyalty card but offers instant discounts every time you visit a local restaurant.
There are also a ton of elegant events around the lake throughout the year. This includes fine dining experiences and wine tastings to enjoy with a gorgeous view of the lake in the background.
Nearby Places to Explore
Whether you're looking to explore nature or want to go into the city for some shopping, there are tons of options around Lake Oconee. Nestled between Phoenix and White Plains, both towns are just a 10-minute drive away. Whether you're looking for a specific store or want a night out in the town, everything you need is just a short drive away.
If you're looking for more nature, the Oconee National Forest is just a stone's throw away. This stunning national park has over 850 miles of trails throughout the 867,000 acres of untouched forest. This makes it perfect for hiking, biking, and even camping overnight.
Hard Labor Creek State Park is another option a few miles to the west of Lake Oconee. This stunning state park comes with tons of hiking trails but also includes a golf course and a lake for swimming and boating. The wheelchair-accessible park is perfect for the entire family as it also hosts tons of activities for visitors of all ages.
While there is a private airstrip in Sebastian Cove, the Greene County Regional Airport is just a few miles east of lake Oconee. This helps make the northern communities perfect to invest in real estate for tourists coming into Lake Oconee.
The Best Communities To Invest In
Lake Oconee is home to some of the most stunning real estate communities in Georgia. These incredible estates don't just offer
incredible views of the Lake
, they also come with world-class amenities for you and the entire family. Here's a quick look at the most popular real estate communities for you to invest in.
1. THE HARBOR CLUB
If you're looking for a beautiful lake home right on the lakefront, The Harbor Club is the perfect option. This incredible community hosts one of the best golf courses in the country along nine miles of stunning shoreline.
The community has plenty of space but is also bordered by 1,600 acres of wooded hills for added privacy. The community also hosts a driving range, a few restaurants, and a fitness center. This makes it the perfect community for those wanting to raise a family or retire in luxury.
2. SEBASTIAN COVE
Sebastian Cove is a charming airplane community that has direct lake access. This makes it the perfect community for those looking to invest in a holiday home or a vacation rental. The best part about the community is the fact that it has a private airstrip, perfect for aviation lovers.
The community is more than the airstrip as it also has a private boat ramp, renovated tennis courts, and a private clubhouse that can be used for private events. The Sebastian Cove Social Club also hosts tons of events throughout the year to keep you and your family entertained.
3. REYNOLDS LAKE OCONEE
Dating back to 1982, Reynolds Lake Oconee is a gated resort that offers the entire community tons of amenities. This includes nine restaurants and six award-winning golf courses. The community also has four marinas, a fitness center, a tennis club, and a world-class hotel.
Reynolds Lake Oconee is home to the
Ritz-Carlton Hotel and Spa
. However, there are tons of stunning pieces of real estate in the area that overlook the forest, lake, and golf course. This makes Reynolds Lake Oconee the most luxurious place to move to on the lake.
4. EMERALD SHORES
Emerald Shores is the perfect place to move to if you want the best of both worlds. This is because the community is close enough to White Pains to remain convenient while being far enough to enjoy the peace and quiet.
While the community is not on the main lake, it's still a quick boat ride to Reynolds Lake Oconee. Emerald Shores comes with a private boat ramp, a remote-controlled gate for security, and tons of privacy for the entire family. There are also a few walking and biking trails around the community, making it perfect for those with a more active lifestyle.
5. CUSCOWILLA
Cuscowilla is located on 700 acres that are laid perfectly on seven miles of Lake Oconee shoreline. This residential community comes with an award-winning golf course, a few fine-dining restaurants, tennis courts, pools, and fitness facilities.
Cuscowilla is an excellent community for families as it comes with 24-hour security, a pet park, a community garden, and members-only social events. This stunning community comes with views of the lake, the green, or the woods.
One of the best aspects of the Cuscowilla is the fact that it's one of the only communities on the lake that has a world-class golf academy. This is perfect for kids and for adults looking to improve their game regardless of what skill level they are.
Make Lake Oconee Your Home
Lake Oconee is one of the most serene and peaceful places in the country. With incredible golf courses, world-class restaurants, and stunning real estate, Lake Oconee has everything you could ever dream of. The southern lifestyle adds to this to create the perfect place for the entire family.
If you're ready to move to Lake Oconee, we can help you find your dream home.
Contact us today
to learn more about the local real estate market around Lake Oconee.